Wednesday, January 2, 2019
National Championship Game BAMA VS CLEMSON sound familiar?
Oklahoma was never in the game against Bama. Yes, that's right. Bama opened up on the first play with a 50 play, and really never looked back. Yes the score said 11 points, but it was never really that close. Bama was up by 28 Sooner than you could yell Boomer. The Heisman Trophy winner had a pretty good second half, but it was all for naught. Tua had a great game, throwing more TD passes than he had incompletions. He had 4 TD passes. Let that sink in for a moment. Bama could have scored another 21 easily. I was a bit surprised at Bamas quick start and the 28 - 0 lead, as were many. Josh Jacobs ruled Oklahoma as he played with the agenda, that OK overlooked him. He also ran over an Oklahoma DB in route to a TD. It was brutal.
On to the next game. Bama and Clemson find themselves in a familiar place... the FINALS of the College Football Playoffs. #1 VS #2.
One team will leave this game in Santa Clara California, with 15 wins - and unblemished record - and the National Championship for 2018. On paper, this game is or at least to me, looks very EVEN. The guys in Vegas have Bama as a 5 to 6 point favorite.

I am struggling to pick a score on this one. These two are so similar, and have played to the wire on 2 of the previous meetings and they know each other well. I have to imagine Dabo and the Tigers have a mad on about last year's loss, when Bama's defense took over and literally smothered them. But this year, like Bama - Clemson has a QB (Trevor Lawrence) who is nothing short of spectacular. Though only a freshman, he has stats that easily compare with Tua. Clemson has one of, if not the best D-line in the nation.
So how will it turn out? Having been a Bama fan for over 5 decades, I can't believe Bama has this opportunity. Meaning - WOW... what an amazing run with Coach Saban. Sometimes I sit in disbelief.
There is a part of me that thinks Bama will win big, and a part that says it will be a donnybrook. So when all is said and done, I see Bama and Tua, just too much for the Tigers and Bama will capture #18 and Saban #7, eclipsing the Bear.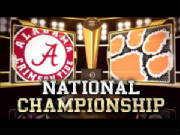 38-31
Roll Tide
Wed, January 2, 2019 | link
Thursday, December 27, 2018
Week 15 Bama VS Oklahoma - CFP
Today I was thinking about this game and it occurred to me that Bama has now been in EVERY CFP game since they started. Then it occurred to me that Bama VS LSU in the old BCS format, is really what is responsible for the CFP system. Conclusion, how can you be a Bama fan and not be spoiled? It's tough!
A quick recap of the SEC Champ game, and I know anyone reading this doesn't need it, but it seems necessary before I can move on. In what turned out as a Cinderella story started as a nightmare. Bama down by 14 - Tua drives and gets Bama within 7 and on the next possession he gets stepped on and goes down. In comes Jalen and the rest is Bama history. I must say, Jalen Hurts is a class act and an example for all of us. Not just FOOTBALL, but all of us. We could all afford to be a bit more humble, a bit more dedicated, a bit more loyal and a bit more motivated.
Enough about LIFE J on to FOOTBALL.
To me the real turning point in the Ga game (aside from the weird "GO FOR IT ON 4th and 11" was obviously Hurts coming into the game. I know most Bama fans cringed (me included) when Tua was helped off the field. But, much like when Tua entered the game in January against the same Ga team, Bama seemed to ratchet it up a notch and cleaned up their execution. The defense which had played somewhat porous in the first half, played lights out in the second half. That was big in Bama having the ball and being able to put together drives. When all was said and done, Bama claimed another SEC Championship Win - an undefeated season - and subsequently keeping the #1 spot and moving to CFP to face the #4 team Oklahoma. Georgia is IMO better than Oklahoma, but the committee and their criteria obviously think differently. And considering Ga with 2 losses and Ok with one, it stands to reason that would be the obvious choice.
Now to Saturday and the Orange Bowl with the 7 O'clock kick off ESPN. Not much I can say here, that hasn't been said. Everyone knows the obvious narrative - Ok has the best O and one of the worse D's in the FBS. Bama has perhaps the best Defense Ok will have faced. HOWEVER, I have no doubt that OK will be the best Offense Bama has faced this year. The line is (depending on where you look) near 14 and all have it double digits.


The thing that troubles me is - most folks seem to think it will not be a contest, with Bama dominating. I hope everyone who thinks that is RIGHT! I however feel differently. Based on my very limited football knowledge, OK runs their offense so fast and so accurately I fear the Bama D will take a few series to get a grip on the SPEED of the game. Thus, the opportunity may be there for OK to get up on the Tide creating a scoring fest. Of course the flip side is Bama can take the air out of the ball, and run against one of the worst Defenses in the FBS. Most of the pundits I have heard say they expect Bama to RUN RUN RUN RUN. I think that makes sense, but - perhaps it's so obvious they will do the opposite. Again, my limited football knowledge and poor logic taken into consideration.
No matter the strategy, I do believe Bama will need to be productive on most every possession. On paper, Bama should win, averaging more points that OK per game, but only allowing 14 points per game. Ok allows 32, and that seems to be the most glaring stat that stands out.
Another thing to consider. Georgia played perhaps it's best game of the season, and Bama played perhaps their worst game of the season, yet Bama prevailed.

Below are all the stats - and again Bama on paper is the apparent winner. I certainly hope the paper doesn't lie, but I am nervous about this one. I do believe Bama will be in a tussle through the first half and make adjustments and pull away in the latter part of the game. I look for Quinnen Williams to have a BIG GAME.


45

38
Roll Tide
Alabama

Stat/Leader

Oklahoma

13-0 (8-0 SEC West)

Record (Conference)

12-1 (8-0 Big 12)

No. 1

CFP ranking

No. 4

47.9

Points per game

49.5

14.8

Points allowed

32.4

527.6

Yards per game

577.9

325.5

Passing ypg

324.0

202.2

Rushing ypg

253.9

295.4

Yards allowed per game

448.1

178.4

Passing yards allowed

291.4

117.0

Rushing yards allowed

156.7

Tua Tagovailoa
3,353 yards (37 TDs, 4 INTs)

Passing yards

Kyler Murray
4,053 yards (40 TDs, 7 INTs)

Damien Harris
771 yards, 7 TDs

Rushing yards

Kennedy Brooks
1,021 yards, 12 TDs

Jerry Jeudy
1,103 yards, 12 TDs

Receiving yards

Marquise Brown
1,318 yards, 10 TDs

Quinnen Williams
66 total tackles, 18 tfl, 8 sacks

Defensive leader

Kenneth Murray
140 total tackles, 12 tfl, 4 sacks
Thu, December 27, 2018 | link
Friday, November 30, 2018
Week 14 Bama Vs Ga
SEC CHAMPIONSHIP GAME - NATIONAL CHAMPIONSHIP REMACH! This Game is entitled to a NAME. The rehash? Tua and 26 again? Saban Vs Smart, part II. None of those are clever enough or worthy so I digress.
Bama did to Auburn what it has done all season. 52-21 sounds close? What? Yes it does, but consider that Bama was up only 3 points at the break, but turned up the burners in the second half outscoring Auburn 35 -7. Tua actually uncharacteristically played in 4th Quarter - only a few snaps, the last was a TD for his 5th passing TD of the day.
As great as all that sounds, to quote Gene Stallings - "We've won every game, and we haven't won anything yet." Or something like that.
Many say Bama will get into the playoffs no matter the outcome of this game. I would hate for Bama to have to rely on the Committee to make that decision. It would be MUCH better to remove all doubt.
Georgia has lost only one game this year and has worked its way into the top 4. Their only loss coming at the hands of the LSU Tigers. But, giving the Dog its due, they have played like a different team since that WAKE UP loss.
Many thought Bama would score a lot of points on LSU, and they scored 29 - which is a lot, but this year it seems not. In the next game MS St, Bama managed only 24, but just like LSU, Ms. St never scored.
Since that game Bama's D has given up 38 points in two games. 21 to Auburn and 17 to The Citadel. Did these teams find something that worked to score on Bama? Was the concentration lost? Whatever it is, I don't see Bama lacking focus in this game.
This is quiet the matchup - as on paper, you can make Bama a heavy favorite. The Folks in Vegas have Bama a 13.5 favorite. Many say it won't be that close. I am very nervous about it. I know emotion and momentum will have a big effect in this game.
Bama MUST stop Ga running the ball. Ga as well must stop Bama running the ball. Both QB's are rated about as high as can be. Bama has the advantage on rushing the passer, and I believe that Bama has the advantage of recievers vs Ga secondary. Ga is a very young team. Many of the guys who were in that epic game last year are gone. That could play into this too.
I've rambled enough, I believe when all is said and done, Bama will win. I believe Ga will keep it closer than most think.
28 38
Roll Tide !!!!!!!!!!!!
Fri, November 30, 2018 | link
Wednesday, November 21, 2018
Bama – VS – Auburn Week 13 / Bama 11 -0 Auburn 7 – 4.
Wait WHAT? This year when there was a lot of HYPE that Auburn would be good.... At least better than 7-4, but as we roll toward Thanksgiving and The Iron Bowl - those numbers are correct. In spite of the fact that Gus said so himself. How about this number - the betting line has Bama a 24 point favorite. WOW. But least we forget, Bama got knocked around last year at the Loveliest Village on The Plains. It still stings, but the ointment that soothes that sting was Bama's National Championship.
This is one of the least HYPED Iron Bowls in recent history that I recall. CBS 2:30 Kickoff at Bryant Denny Stadium will see the 83rd tussle between these two. Bama has the better talent, that is obvious - and the cliché "you can throw out the record books" simply doesn't seem to apply this year.
Auburn showed some moxie with its last minute drive to beat TAMU, enough so to know they do have opened the eyes of other opponents, including Bama. That is one of the shining moments of this season. The Tide and Tigers costed against the Citadel - and Auburn vs Liberty.
Bama did make all fans take a collective breath with a 10 -10 tie at the half. But Bama woke up and went to work in the 2nd, scoring 40 points.
Bama has seemed a bit nicked and bruised in the past few games, but reports say other than Damion Harris, everyone should be good to go. There is a chance Bama could be peaking ahead to the SEC Championship Game - but Nick Saban will likely take care of that.
Auburn has not done well on 3rd down - has not fared well against the run and its secondary is prone to give up big plays. If that follows suit, then Bama could win and win BIG! The biggest margin of victory in this series is 55 - 0, Bama in 1948. Some think that stat could be in jeopardy! I am not one of them.
I do look for Bama to cover - going away late in the game.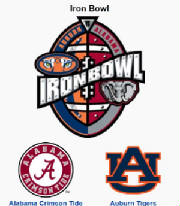 48 17
ROLL TIDE !!!
*This is the second Iron Bowl that I won't be able to discuss The Iron Bowl with our Son, Justin. We miss you on Tide Saturdays, and all the other days. Love You!
ROLL TIDE !!! RIP #JUSTINLIVESON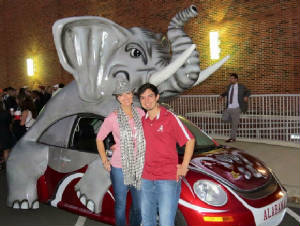 Wed, November 21, 2018 | link
Friday, November 9, 2018
Week 11 Bama VS Miss ST
Coming off a big win against LSU, Bama is back home against the MSU Bullies. Bama looked good against LSU on the road. In a game that many pundits predicted Bama would perhaps show its vulnerabilities, The Tide continued to shine on offense, and the defense seemed to have a "MAD ON" and played what was easily one of their best games of the year in a 29 to 0 shut out. Bama did at times struggle with motion on offense, but considering the atmosphere in DEATH VALLEY, those kind of things are understandable. Of course not acceptable by Coach Saban.
Bama has a fair share of nicks and bruises after the bout with the Tigers and some key players are day to day and questionable for Saturdays 2:30 Kick on CBS. Against LSU the shutout was a result of a relentless defense led by Quinnen Williams. He looked unblock able against the Tigers who managed only 16 rushing yards.
Let down vs Ms St? Remember a few weeks back Coach Saban mentioned a possible let down or as he called it, a trap game. This game because of where it falls in the schedule, seems to be a possible trap game. Remember last year Bama struggled and won with a clutch drive in the 4th Qtr. A quick look at the Bullies schedule reveals to me - against SEC foes this year, MSU has scored a total of 67 points in 5 games. The two wins in the SEC are vs Auburn and TAMU. MSU will certainly have to play the best game of the season to score with Bama.
I believe this game will speak volumes about this Bama team, who many say is among the greatest of all time. It would be easy to coast into this one and rest on ones laurels. If that is the case and Bama struggles it will say they have chinks in their armor. If they take care of MSU with a business like attitude - they may actually deserve those lofty praises.
I look for Bama to make a statement in this game. They will score early and often, easily covering the spread of 23.5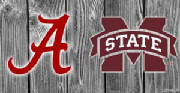 45 17
ROLL TIDE!
Fri, November 9, 2018 | link