Tuesday, October 6, 2015
Week 6 Homcoming - Bama Vs Arkansas
Love Homecoming - We will be rounding up the Tide Rides and headed to T town for the 1PM parade... hope to see you !!!
Well as astounded as I was at the Ole Miss victory over Bama, I was equally astounded as I braved the rain at Sanford Stadium and watched the Tide handle the Bulldogs in a fashion that no doubt made, Gene Stallings and the late Coach Bryant proud.
The hat trick, Offense - Defense - Special Teams, shared in scoring against the Dawgs who were favored by 2 points. Bama finished with a score of 38 -10 and really the game wasn't that close. Jake Coker seemed to find his missing MoJo with his best performance thus far and you could almost see his confidence grow. Despite a fumble to put the Defense in a bind early Bama D never wavered, in fact had they not let Chubb loose on an 85 yard ramble, the D played almost flawlessly.

This is the Team most Bama fans anticipated at the beginning of the year. Now the question, can they be consistent? To steal a line from Coach Saban, "consistency is an area most humans suffer". If Bama can sustain that elusive consistency they should able to stand toe to toe with everyone on the schedule.
But as they say "one game at a time" Arkansas is the business at hand. The Hogs come to Tuscaloosa as more than 2 TD underdog, ridding an SEC victory on the road against the Tenn Vols. The Hogs had two backs with over 100 and their QB had over 200 yards, giving the team almost 500 total yards, while holding the Vols to 365.
Traditionally this game is close, and that was the case last year when Bama held on to defeat the Hogs by one, 14-13. I believe this Bama team will continue to ride the momentum from Ga. and defeat the Hogs in the ESPN night game.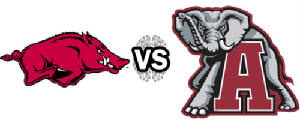 13 34
Tue, October 6, 2015 | link
Thursday, October 1, 2015
Week 5 Bama vs Dawgs in Athens
The words most spoken on radio across the South regarding this game is "Must Win". Must win for Bama and must win for Georgia. Clichés are: well clichés. Bama comes into this game as a 2 ½ point underdawg (pun intended). This is the first time since 2009 that Bama has not been favored in a game. The record belongs to Bama at 72 games being favored, but not Saturday.
So, the Crimson Tide will have a role they are not familiar with. Georgia comes in with a record of 4-0 ranked 8th and Bama 13th at 3 -1 with the loss to Ole Miss - still looming. Bama would put that bitter memory behind them quickly with a win over the Dogs... but can they? Georgia arguably has one of the best if not the best RB in the nation - and Bama has a back who is not so bad himself. Georgia's coaching staff is made up of several former Bama coaches - thus many say Mark Richt is emulating Bama and that has put Ga in a position to be more consistent.
This is a big game, big for both and since Bama is on the road, they have a loss, and it makes sense they are not favored.
I suspect both coaches will be close to the vest, and not taking a lot of chances. Expect a lot of punts and a lot of 3 yards and a cloud...wait - it is going to rain... not a little, but a lot - so 3 yards and a mud puddle.
The rain won't in my opinion favor either game - it will again, make the coaches be ultra conservative. Both teams will be ready, the rain will not decide the game, but if the rain is hard enough, the team who manages to hold the ball and win the kicking game will win the game.
Bama will be that team.
Bama 17 Georgia 16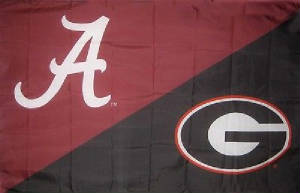 Thu, October 1, 2015 | link
Friday, September 25, 2015
Week 4 Bama vs ULM
Week 4 Bama Vs ULM
Who'd of thunk it. Bama falls to the Rebels for the 2nd year in a row. The game was as close as the score indicated but was up and down at best. I was there, very hard to watch Alabama play so sloppy, however credit too goes to Ole Miss, as each time Bama would pull close, Ole Miss would score to take the wind out of their sails. The positives I saw - Bama never gave up the ghost, when down by 20 they fought back and had an opportunity to drive and score with 3:03 left on the clock, but one of the five turnovers of the day occurred at the worst time for the Tide and best for Ole Miss.

This one hurt, however there were again, some positives and I believe if QB play can solidify, this team still has a shot.
This week Alabama is at home against Louisiana Monroe - The War Hawks..... and the Tide is a 38 point favorite.
Though I don't like these sandwich games, I have some trepidation as I recall Bama falling to ULM in Nick Sabans first year the Tide was a 25 point favorite and laid an egg in a loss to the War Hawks !!! Will it happen again? Likely not.... I think Bama is just to0 strong defensively and too deep... for a slip up to occur. I would love to see the Crimson Tide live up to the preseason hype, shut out ULM and get the offense on track.
ROLL TIDE
Bama 42 ULM 14
Fri, September 25, 2015 | link
Thursday, September 17, 2015
Week 3 Sept 19 Bama Vs Ole Miss Rebs
Last week, I simply "forgot" to post to my blog prior to the Bama vs MTSU game - and perhaps that is the best description of the game itself.
I had a group at my house to watch and we all basically were lethargic - and for lack of a better word, sleepwalked through the game. And I suppose though Bama came away with a win, it seemed some of the players were doing the same.
Bama scored 37 points and held MTSU to 10, with a late touchdown ... non the less, Bama seemed out of sync at times and out of rhythm. As promised, Saban played 2 QB's - and honestly didn't get great production from either. In my mind, Coker still is the person to beat.
Ratchet up the intensity this week as the OLE Miss Rebs, come to Tuscaloosa. Bama fans don't need reminding nor, want to be reminded that Ole Miss defeated Bama last year in Oxford. In a game where Alabama turned the ball over, uncharacteristically leading to the defeat by 6 points.
Fast forward this year and we find Bama and Ole Miss again meeting this year in Tuscaloosa, and both undefeated. Bama ranked in the top 5 and Ole Miss in the top 20. Though Bama is favored in the game, many are predicting Bama to fall. Ole Miss comes in averaging more than 70 points per game - more than Bama has scored in both its contests. Ole Miss has played a couple of cupcakes, but 70 points even if in practice is impressive.
Bama has been impressive with the front 7 and many say the secondary is still suspect. I suspect that will be put to test at the 8:15 kick off on Saturday.
I think this will be a great game and a great way for both teams to kick off S.E.C. play. Bama at home will take this one in a close game.
My Prediction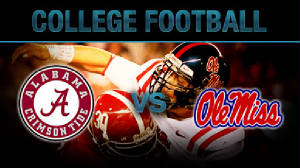 38 26
Thu, September 17, 2015 | link
Tuesday, September 1, 2015
2015 RTR - Bama Vs Wisconsin
Welcome to 2015 College Football - Take a breath, make time slow down, because these next few weeks will be exciting and go fast...

What a difference a year makes, or in this case 9 months.
Today is the first day I have looked at my prognostication since Bama lost to Ohio State in the Sugar bowl in the inaugural playoffs in college FB.
I can take some solace in the fact that I forecast the Bama score within a point - however I missed OSU by 16. Apparently Bama's Defense was celebrating too early... and OSU certainly didn't lose focus as they took it to the Tide in what was a defeat that left many scratching their collective heads. This Bama team, arguably the strongest and best offensive team the Crimson Tide has ever put on the field, couldn't hold their opponent to under 42 points? Wait - what am I saying, Auburn hung 44 on the Tide and gained over 600 yards in what was a come from behind victory for Bama. Should that have been a glimpse into the troubles ahead? Of course it should, but fans (and I am a fan) tend to overlook those things when a W is the result.

Ohio State was and is for real Bama found that out in head to head competition. Being a fan, I hope and believe that Coach Saban and staff, said hey - what happened to the vaunted Bama Defensive. The "Make is #ss quit" defense. I hope and believe that the Coach is determined to get that Defense and put them back on the field in 2015.

But how do you replace Amari Cooper, TJ Yeldon and Blake Sims? I am asking myself those questions and the answers on paper are - Derrick Henry, Kenyan Drake and a QB tba. Wait, what? No QB yet? That's right and I can remember (I'm old - a purist - traditionalist kind of guy) when no QB announced a week before game time would be certain death - or at least enough to strike fear in even the most fanatic of fans. Today though, the game has changed so much, it simply doesn't mean as much. Oh sure, I would much rather have a proven guy to step in and take the first snap from center. But last year, least we remember, Sims was a stinker in the spring game and most thought his debut would be a disaster... and that turned out to be a pretty good story. So, we enter 2015 with a proven RB - tandem, great talent on the O line, great talent at WR (though no Cooper) and a Defense that many say will rival any Saban has fielded. So now worries right ? Haha, I'd be worried if Bama was lining up against a West East North State, instead they are going against what is truly the epitome of SMASHMOUTH FOOTBALL - the Wisconsin Badgers.
When I think Wisconsin I think, RUNNING GAME. Most people do. Season openers are tricky, and last year Bama had a win in it's opener in Atlanta, but was less than impressive. This year in a bigger venue (Dallas JerryWorld) the Tide has an opportunity to make a statement - will they? I certainly hope so. On paper, Bama is a favorite - more talent, pure and simple. And as the cliché says, they don't play the game on paper.


Wisconsin has some injury problems on the O line and a running back who averages over 7 YPC last year. With Bama having what many say is the best front 7 in CFB, that is where I think the big advantage belongs to Bama. Bama should also have an advantage in field position with JK Scott returning as the punter.
Those two things combined with the fact that Wisconsin is not the kind of team that gave Bama fits last year (See OSU and AU) I believe will result in Bama keeping Nick Saban's season opener no loss record, intact.
I am so happy FB Season is here!!!

17 38
RTR
Tue, September 1, 2015 | link